Introduction to Pregnancy Counseling
by Sister Paula Vandegaer, L.C.S.W.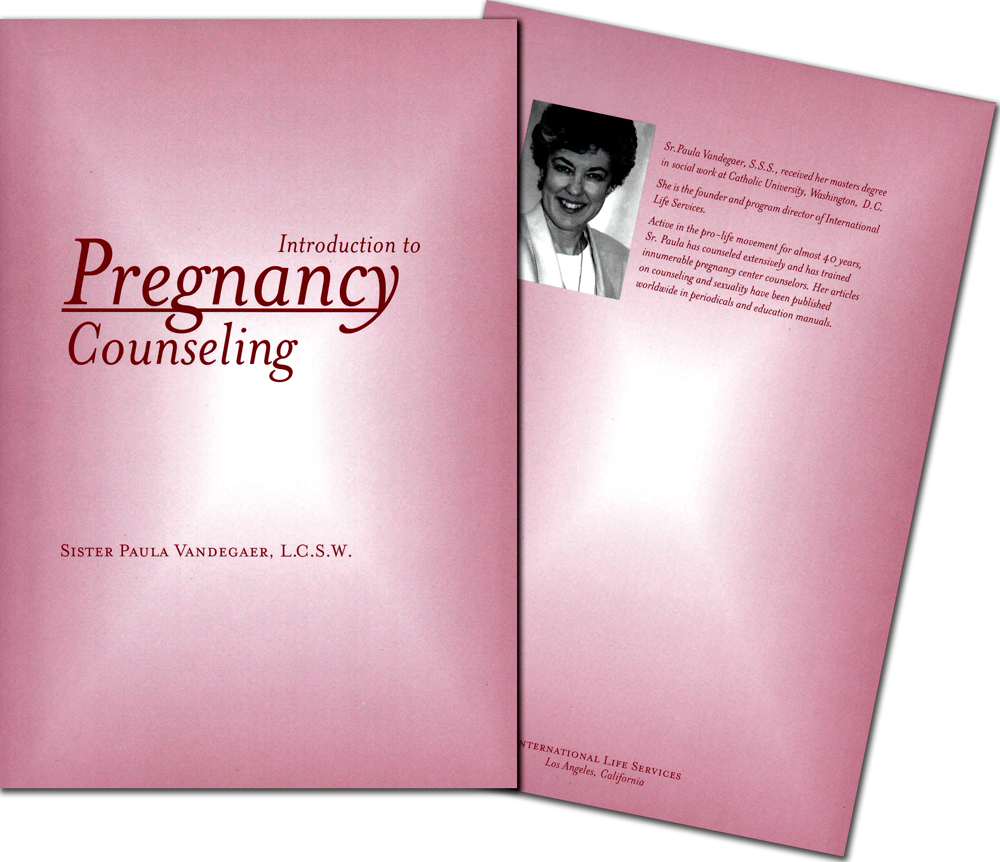 This is the first textbook of its kind that provides center volunteers with an understanding of the basic psychology behind successful pregnancy counseling.
Using real-life case studies, examples, and exercises, this textbook successfully integrates theory and skills, providing a thorough and applied overview of pro-life counseling within a short-term setting.
~ Table of Contents ~
Covers today's "hot topics" for counselors such as . . .
Chapter One: Who Will Need Pro-Life Counseling? Covers- Statistics, The Unmarried Woman, The Married Woman, Other Clients, and Informed Consent.
Chapter Two: Basic Attitudes of the Counselor Covers- Listening, Acceptance, Nonjudgmental, and Individualization.
Chapter Three: Confidentiality Covers- Confidentiality Defined, The Client is Suicidal, The Client is Homicidal, and Child Abuse.
Chapter Four: Crisis Intervention Counseling Covers- History, Conceptual Framework, Divisions of a Crisis Period, Key Implication of the Theory, The Philosophical Point of View of the Counselor, and Specific Methodology.
Chapter Five: Counseling the Woman at Risk for an Abortion Covers- Intentions of Clients, The Initial Response, Physical health, Relationship with the Boyfriend, Relationship with the Parents, The Social Situation.
Chapter Six: Talking About the Baby Covers- Areas to Avoid, Natural Bonding, Development of the Baby, The Abortion, Practical Plan, and The Abortion Decision.
Chapter Seven: Helping the Sexually Active to Say No Covers- The Experimentation Stage, The Identity Stage, Sex As a Life Style, What Can a Counselor Do?, Counseling in the Experimentation Stage, Counseling in the Identity Stage, Counseling in the Life Style Stage, and Special Problems.
Chapter Eight: Contraceptives Covers- The Natural System, Pill Description, Temporary Sterilization, Contraception, Abortifacient, The Vagina, Summary of the Pill, and Other Contraceptives.
Chapter Nine: Post-Abortion Counseling in a Short-Term Setting Covers- Post-Abortion Trauma, Symptoms of Post-Abortion Trauma, Those Note Disturbed About the Abortion, Use of Defense Mechanisms, The Goal of Short-Term Counseling, The woman in Denial, The Woman With Concerns about her Abortion and Spiritual Healing.
Chapter Ten: Adoption Covers- Timing, Terminology, How to Introduce Adoption, The Adoption Plan, Choosing the Parents, and The Relationship with the Baby.
Chapter Eleven: Rape and the Pro-Life Pregnancy Service Response Covers- Incidence of Rape, The Rape Victim, Pro-Life Intervention, The Acute Reaction, The Second Stage, and The Third Stage.
Chapter Twelve: Counseling the Difficult Cases Covers- General Description, Etiology, Dependent Personality, Histrionic Personality, Narcissistic Personality, Antisocial Personality, and Borderline Personality.
Chapter Thirteen: The Spiritual and Psychological Unity of Counselor and Client Covers- Shared Emotional Involvement, Spiritual Energy, Empathy, and Natural Sources of Strength.
Non Members Prices
Price
$15.00 per book
Bulk Price
$14.00 when purchasing 5 books or more.
ILS Member Prices
Federation Price
$13.50 per book
Federation Bulk Price
$13.00 when purchasing 10 books or more.
Federation Bulk Price
$12.75 when purchasing 20 books or more.