It takes a very special person to work in a Pregnancy Service Center and very specialized training.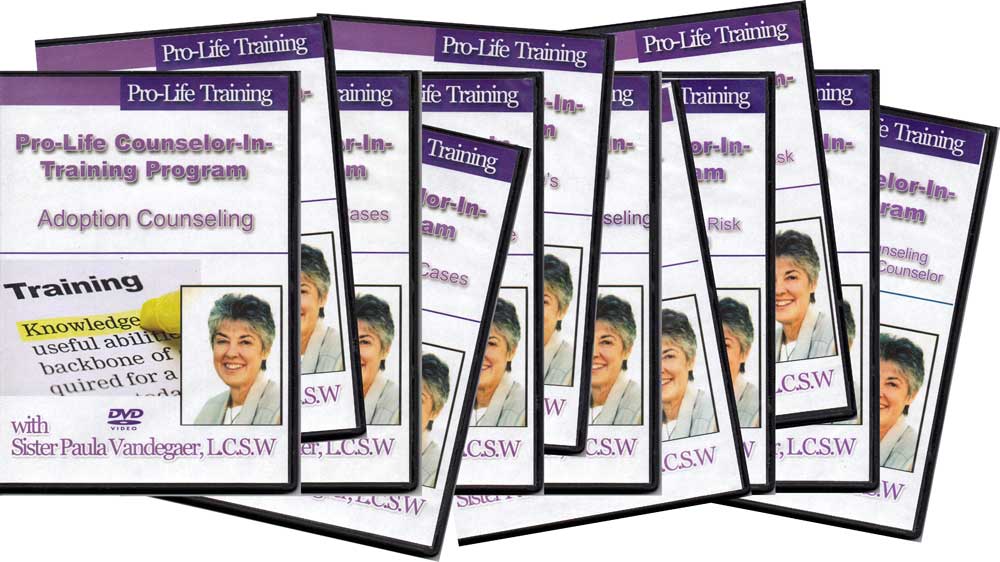 DVD 1: Who Will Need Pro-Life Counseling and the Basic Attitudes Of the Counselor
DVD 2: Confidentiality
DVD 3: Counseling the Woman at Risk for an Abortion Part I
DVD 4: Counseling the Woman at Risk for an Abortion Part II
DVD 5: Talking About the Baby
DVD 6: Chastity and Life Style Counseling
DVD 7: Contraceptives and STDs
DVD 8: Normal Psychosocial Development of Young People
DVD 9: Counseling the Difficult Cases Part I
DVD 10: Counseling the Difficult Cases Part II
DVD 11: Post-Abortion Counseling in a Short-Term Setting
DVD 12: Adoption Counseling
Pro-Life Counselor-in-Training Program
Developed by Sister Paula Vandegaer, L.C.S.W., to help your volunteers master the skills to work in a pregnancy service center. Complete with 12 DVDs and as an added bonus a copy of the bestselling textbook, Introduction to Pregnancy Counseling.
The Pro-Life Counselor-in-Training Program was designed to be a complete course on how a client advocate can legally and effectively assist a center client. You only need to add a section on referral to your local resources, (maternity homes, public assistance offices, doctors, etc.) and you have a complete training course.
The program masterfully demonstrates how to successfully help a woman who is facing an unplanned pregnancy. It covers the basic psychology behind effective counseling and leads the volunteer step-by-step through the different phases of crisis intervention counseling in a short-term setting.
Center Directors can rely on this highly informative series to completely train volunteers to be prepared to offer client services. It can also be used to supplement and augment your current training, or to again remind your already trained advocates of the profound, and professional service they provide. Great for use in classroom setting or as a self-paced study program.
DVDs are approximately 60 minutes in length, are in full color, and professionally produced.
TWO OPTIONS AVAILABLE
OPTION 1:
The Complete Pro-Life Counselor-in-Training Program
Includes all 12 DVDs and 1 copy of the Introduction to Pregnancy Counseling Textbook
Members Price $315.00 | Non Members Price $350.00
OPTION 2:
The Basic Pro-Life Counseling-in-Training Program
Includes the first 6 DVDs of the Counselor-in-Training Program and 1 copy of the Introduction to Pregnancy Counseling Textbook
Members Price $157.50 | Non Members Price $175.00
Non Members Prices
Pro-Life Counselor-in-Training Program
12 DVD Counselor-in-Training Program and Textbook
Price $350.00
Pro-Life Counselor-in-Training Program
6 DVD Basic Counselor-in-Training Program and Textbook
Price $175.00
DVD 1: Who Will Need Pro-Life Counseling and the Basic Attitudes Of the Counselor
Price $30.00
DVD 2: Confidentiality
Price $30.00
DVD 3: Counseling the Woman at Risk for an Abortion Part I
Price $30.00
DVD 4: Counseling the Woman at Risk for an Abortion Part II
Price $30.00
DVD 5: Talking About the Baby
Price $30.00
DVD 6: Chastity and Life Style Counseling
Price $30.00
DVD 7: Contraceptives and STDs
Price $30.00
DVD 8: Normal Psychosocial Development of Young People
Price $30.00
DVD 9: Counseling the Difficult Cases Part I
Price $30.00
DVD 10: Counseling the Difficult Cases Part II
Price $30.00
DVD 11: Post-Abortion Counseling in a Short-Term Setting
Price $30.00
DVD 12: Adoption Counseling
Price $30.00
Members Prices
Pro-Life Counselor-in-Training Program
12 DVD Counselor-in-Training Program and Textbook
Price $315.00
Pro-Life Counselor-in-Training Program
Six DVD Basic Counselor-in-Training Program and Textbook
Price $157.50
DVD 1: Who Will Need Pro-Life Counseling and the Basic Attitude Of the Counselor
Price $27.00
DVD 2: Confidentiality
Price $27.00
DVD 3: Counseling the Woman at Risk for an Abortion Part I
Price $27.00
DVD 4: Counseling the Woman at Risk for an Abortion Part II
Price $27.00
DVD 5: Talking About the Baby
Price $27.00
DVD 6: Chastity and Life Style Counseling
Price $27.00
DVD 7: Contraceptives and STDs
Price $27.00
DVD 8: Normal Psychosocial Development of Young People
Price $27.00
DVD 9: Counseling the Difficult Cases Part I
Price $27.00
DVD 10: Counseling the Difficult Cases Part II
Price $27.00
DVD 11: Post-Abortion Counseling in a Short-Term Setting
Price $27.00
DVD 12: Adoption Counseling
Price $27.00